Morys Ioan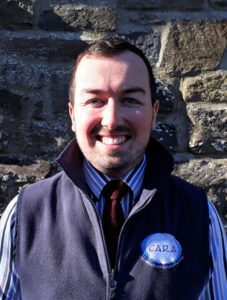 Mae Morys yn fab fferm o Gaerwedros, Ceredigion ac yn gweithio i CARA fel Ymgynghorydd Amaethyddol. Ar ôl graddio o Brifysgol Aberystwyth yn 2014 gyda BSc Hons yn Amaethyddiaeth a Gwyddor Anifeiliaid, bu'n gweithio gyda chwmni bwydydd anifeiliaid fel Maethegydd am dros tair mlynedd. Ymunodd â CARA yng Ngwanwyn 2018, ac mae'n frwfrydig i weithio gyda ffermwyr ifainc yng nghefn gwlad Cymru yn y sector Amaeth. Mae wedi cyflawni Diploma ym Maeth Anifeiliaid Cnoi Cul o Brifysgol Harper Adams ac yn hoffi rheoli glaswelltir a thrafod dulliau pori.
Mae Morys yn ffermio 250 o ddefaid ac yn magu 80 o loi y flwyddyn i'w tewhau adref ar  fferm Drefach gyda'i wraig. Mae hefyd yn aelod gwithgaar o CFfI Caerwedros ac yn Gadeirydd UAC 2019-20.
Morys is a farmer's son from Caerwedros, Ceredigion and works for CARA as an Agricultural Consultant. After graduating from Aberystwyth University in 2014 with a BSc Hons in Agriculture and Animal Science, he worked as a Nutritionist with a national feed company for over 3 years. He joined CARA in Spring 2018, and is passionate for young people working in Agriculture and the Rural communities. He has further done a National Diploma in Ruminant Nutrition at Harper Adams University and is a keen grassland manager and grazing practises.
Morys, along with his wife, farms at Drefach farm running apx 250 sheep and 80 rearing calves per year to finish. He is a keen member of Caerwedros YFC and is the Ceredigion FUW Chairman for 2019-20.